Through this website and blog it is my hope to offer news bits about current graphic design challenges (my own and others) as well as fine art news. To continue with the theme of my new book, "Graphic Design Exposed," this blog will expose the development of graphic design and fine art projects. From time to time I will invite guests to blog here in order to keep the news and views fresh and informative.
Please click on the orange and white envelope icon to receive email updates.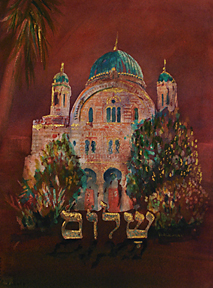 This week I completed a mixed media painting of the Great Synagogue of Florence, Italy. I visited the synagogue in September 2007 and was touched by its great beauty and history dating back to the early 1880's. I was deeply moved by the struggle for survival of the Jewish Community in Florence and the surrounding area. The painting that I've done depicts the synagogue and wish for peace in the world. It is a special gift for a friend who will celebrate becoming a Bat Mitzvah this month.