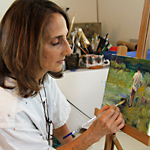 Caren Hackman's paintings have been exhibited in museums and galleries throughout Florida, including the Cornell Museum of Art and History, Delray Beach; The Visual Arts Center of Northwest Florida, Panama City; the Ritter Gallery, Boca Raton; the Arts Center, St. Petersburg; Barrier Island Group for the Arts, Sanibel Island; and the Global Gallery, Tampa. In addition her work has been shown at the Neville Public Museum, Green Bay, Wisconsin; the Orange County Center for Contemporary Art, Santa Ana, California; the Spirit Echoes Gallery, Austin, Texas; and University of Mobile, Mobile, Alabama.
Caren has been awarded two Artist in Residence positions; in 2010, by Necedah National Wildlife Refuge in Wisconsin, and in 2005 by the Herbert Hoover National Historic Site in West Branch, Iowa.
Ms. Hackman's work is represented in numerous collections, including those of; University of Texas Health Science Center NE, Tyler, Texas, Roger Dean, Palm Beach, FL, Equitable Life, West Palm Beach, FL; Northwood University, West Palm Beach, FL; Lake Wales Medical Center, Lake Wales, FL; and A.H. Fisher Diamonds, Red Bank, NJ.
Ms. Hackman maintains a studio in Palm Beach Gardens, FL. She enjoys teaching workshops and welcomes commissioned work.
Locally, Caren is well-known for her tireless dedication to numerous community projects, including founding the City of Palm Beach Gardens GardensArt program and illustrating the life of George Morikami for the Morikami Museum. Her task force and committee contributions, to name just a few, include the Norton Museum of Art, ArtServe, Armory Art Center, Boys and Girls Club Gators Galore, SunFest, and Palm Beach Community College Campus Art Gallery and most recently founding Artists of Palm Beach County.
View Fine Art Portfolio