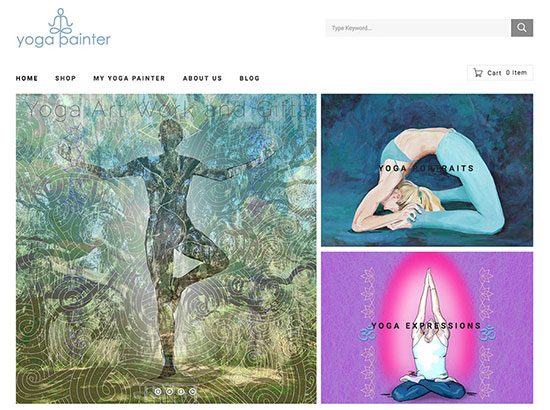 Many of you know me personally, or through my art and design work. Yoga has been an integral part of my life since November 2010. I have only recently brought these two passions together, in a personal passion project of mine.
I'd like to introduce you to yogapainter.com, my online store, your source for yoga artworks and gifts.
From time to time I'll be extending special offers to newsletter subscribers and Facebook fans. Please SUBSCRIBE to the YogaPainter newsletter, than visit YogaPainter on Facebook to find out how you can win a package of note cards or a Yoga Expressions 13″ x 19″ scroll.
At YogaPainter you can order Yoga Portraits, Yoga Expressions and note cards.
Yoga Portraits are hand painted original portraits on artist canvas. Great care is taken not only to capture likeness, but also to express the light within every painting subject.
Yoga Expressions are digital paintings. Instead of using a brush directly on canvas, I draw and paint with a digital tablet and stylus. The artworks are printed with high quality archival inks on artist canvas. No two are exactly the same. Each is customized for you, either digitally, or by hand and paint brush.
Both the Yoga Portraits and Yoga Expressions are sent to you ready-to-hang, Asian scroll style. They have wood dowelsupports along the top and bottom edges and hang from a cord. If you prefer to have the an alternative hanging method, please let me know and we'll make every effort to accommodate you.
Pin It