My Story
My life and career have been guided by strong personal beliefs and a keen sense of community. Integrity, creativity, innovation, compassion and courage are my core values. Creative direction, graphic design and project management are the mainstays of my livelihood.            
Palm Beach County is a community that has grown and flourished over the past few decades and I call it "home." I have been honored to be part of the growth and success of some of the county's newly established community organizations and fledgling businesses, helping them create their distinct visual identities and brands.
Over the years, I have been proud to develop brand and visual identities for several community assets that "prop up" and support the residents of Palm Beach County including the Health Care District of Palm Beach County, Wayside House, Gold Coast Down Syndrome Organization, Palm Health Foundation and Lifeskills South Florida.
I feel fortunate that I've  been able to pursue my two passions, design and fine art as a career. While I've worked professionally and as a volunteer to promote the arts in my community, my own artwork has been recognized and displayed in shows across the United States. Twice I've been chosen from a pool of national applicants to serve as an Artist in Residence at two National Parks.
The marrying of graphic design and fine art provides a unique opportunity for clients who are looking for a comprehensive approach to establishing their distinct visual identity and brand. Thank you for stopping by to visit my website and familiarize yourself with my work.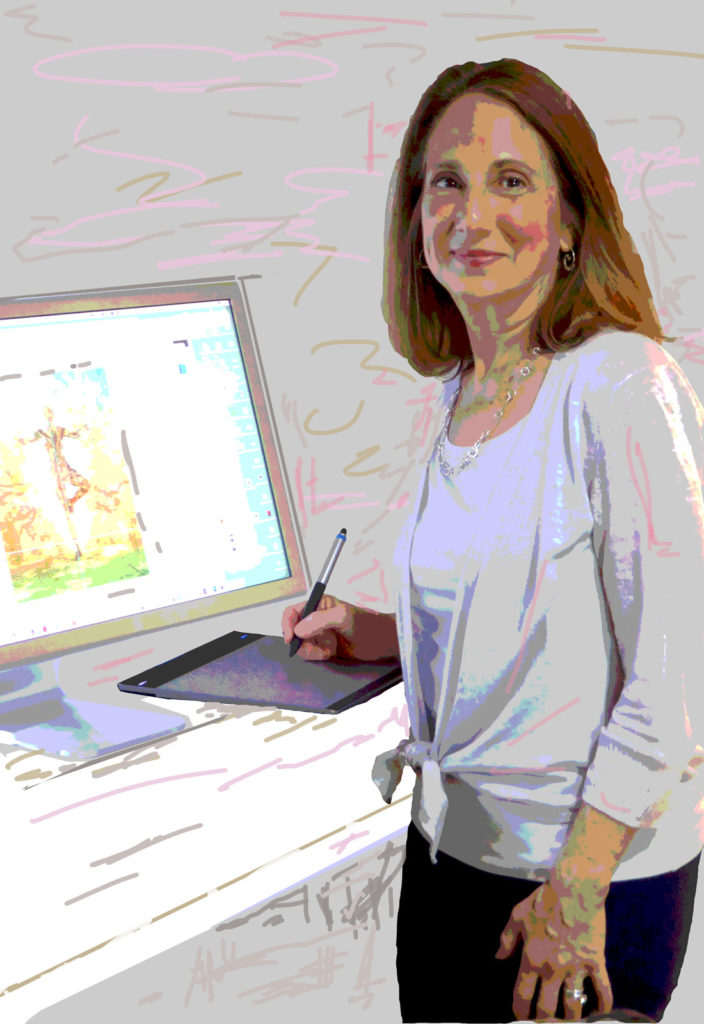 Graphic Design Services Include:
Annual reports
Branding including Identity Analysis,
Logo Design, Visual Identity guides
Billboards
Brochures
Bus wraps
Displays
Email blasts
Fundraising appeals
Invitations
Posters
Print ads
Rack cards & post cards
Stationery packages
Websites
Caren's artwork has been displayed in shows across the United States and she has been selected twice from a pool of national applicants to serve as an Artist in Residence at two National Parks. Her work is represented in numerous collections, including those of; University of Texas Health Science Center NE, Tyler, Texas; Roger Dean, Palm Beach, FL; Equitable Life, West Palm Beach, FL; Northwood University, West Palm Beach, FL; Lake Wales Medical Center, Lake Wales, FL; and A. H. Fisher Diamonds, Red Bank, NJ.
To celebrate Caren's great love for yoga she showcases her YogaPainter work at yogapainter.com.
Caren Hackman is president of Caren Hackman, Inc. (CHI) a full service visual communications firm in Palm Beach Gardens, FL. The firm offers comprehensive solutions for marketing, branding, fundraising, community outreach and public education campaigns, and fine art.
Caren's professional expertise is extensive. In addition to her training in industrial and graphic design, she is a respected illustrator and fine artist, providing her clients a unique combination of talents that offer broad-range solutions. 
CHI's graphic design solutions incorporate the latest technologies and design trends. Caren's approach is supportive and collaborative, establishing strong relationships and working side-by-side with her clients to attain their individualized expectations and goals.
Caren Hackman's fine art career parallels her graphic design career. As a dedicated activist for the promotion of art in South Florida, she is passionate about sharing her knowledge of the benefits that art instills in community pride and personal wellness. Caren was one of three founders of Artists of Palm Beach County, with a mission to share, inspire and promote creativity in the arts through education, exhibitions and outreach to the community. She also founded GardensArt, an exhibition program in the City of Palm Beach Gardens and was an active member of the PBG City Art Advisory Committee (art in public places).
Caren holds a Bachelor's Degree in Industrial Design from Syracuse University. Her diverse client list includes corporations and businesses, governmental entities, non-profit organizations and individuals. Whether you are seeking the services of a skilled graphic designer or you want to create impact through fine art, (or a combination), Caren is eager to discuss your client needs.
Working with Caren Hackman, Inc. was such a positive experience. We hired the company to redesign our logo, create new marketing pieces and redo our website. Caren is a talented artist who was able to transform our thoughts and ideas into pieces that perfectly represented our branding goals. She is hard-working, responsive and has impressive attention to detail. We especially appreciated her genuine interest in our efforts to increase awareness about people with Down syndrome. Caren is an exceptional professional. And because we hired her, we have an exceptional new look!
Anne Dichele
Executive Director
Gold Coast Down Syndrome Organization
"Caren Hackman is one of those rare individuals with an uncanny ability to master 'left brain' and 'right brain' activities. Not only does she have a wonderful sense of design and art, but she also has a keen technical sense and a scientific approach to completing projects. This unique combination is a tremendous asset for her clients and makes for an easy working relationship."
Marjorie Sullivan
Vice President
Palm Health Foundation
"Caren Hackman is a gifted designer, art director and project manager. She listens, is thoughtful, provides outstanding design ideas and delivers exemplary service. Caren's long standing relationships with a myriad of high quality vendors is quite remarkable. I can always count on Caren to deliver the goods and cannot recommend her highly enough to new clients."
Michael Gillis
Executive Director
Lifeskills South Florida
Caren helped my company create an amazing 12 page booklet. I was not only happy with the final result but also the expert advice and guidance I received along the way. I will definitely be turning to Caren for my next design job.
Aaron Huber
KYC Israel

"In the fifteen years we worked with Caren, she always met our deadlines and customers' unique requests to design book – paperback or hard cover – or dust jackets. She often designed our photo pages (photos and captions) and always within budget. The stack of books she helped Biography for Everyone, LLC create shows our satisfaction in returning business to her in order to please our clients. What she commits to, she does."
Kate Winters-Cote
President
Biography for Everyone, LLC
"Caren Hackman is a pleasure to work with. Her creativity, attention to detail and flexibility – particularly on deadline – ensures she's a top-notch designer for any project."
Shana Cooper
Public Information Officer
Children's Services Council PBC
"The photo shoot went smoothly and comfortably. So glad that Caren recommended this instead of using stock photos as I have gotten positive feedback on the brochures."
Naomi Jeffrey
Jeffrey Physical Therapy
Caren has skill and taste, her approach to marketing is on trend but most important she is an invested partner. Caren embraced the spirit and nuance of our organization and delivered our message graphically. We worked as a team on countless projects, large and small. If I was distracted by other demands she got me back on track, making sure deadlines were kept. Our NPO uses a variety of platforms to communicate with our audience and we have had many successes thanks to Caren's skill and consideration. Thanks Caren we've had a great 10 year run.
Nancy Oscarson
The Facial Pain Association
"I have worked with Caren for the past five seasons. She designed our collateral materials and all of our advertisements for our performing arts season and I am so pleased with the results!! Throughout the process, Caren has always been responsive, dedicated and professional, and always a pleasure to work with! The brochures and all of the materials she designed are beautiful…our patrons love them, too!"
Leigh Woodham
Theater Director
Dolly Hand Cultural Arts Center
Caren did a great job on my logo! She did all the formats we needed, and a couple different versions. She works quickly and professionally. I am so happy and love my logo!

Elana Smith
One World-Zero Waste
"Caren listened, reviewed my work, and acquired a great feel for my style. I am thrilled. I would advise anyone seeking web site design services, and who values style, quality and ease of access to use this talented graphic artist. I believe you will be thrilled too."
Jan Anderson Pollitt
President
Jan Anderson Pollitt Photography