My painting suite, the Keepsake Series, grew from my love of utilitarian objects. I am a maker and I come from a family of makers. One of us is always painting, potting, woodworking, tailoring, machining metal, and so on.
Tools and their ability to create fascinate me. There is a great beauty in the humble tools depicted in my paintings. These items have served generations and I feel privileged to have them close by and to be able to depict them in my paintings.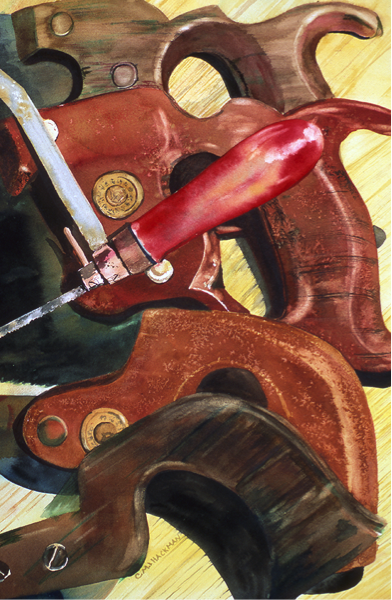 Here is the story about a legacy collection of wood working tools moving on to a fifth generation.
Nathan Katz arrived in the United States by way of Ellis Island sometime during the early 1900's. For the remainder of his life he shared a home with wife, Yetta, his daughter, Bessie, son-in-law, Joseph and grandchildren, Hannah and Martin in Red Bank, New Jersey. He worked as a carpenter, building, refinishing and repairing furniture. I never knew Nathan, but he left a storied legacy and a collection of woodworking tools that have been passed down for generations. Martin, my father, Nathan's only grandson, fondly told me tales about growing up in the same house with Nathan and Yetta. Nathan was quick to anger, but quick to forgive. On Friday evenings he would soak in the bathtub and then offer up his calloused hands for my father to remove splinters from the week's work.
Bessie and Joseph had little use for the tools that were stored in their basement after Nathan passed away. They stayed boxed up in an old wooden cabinet. When Joseph, passed away, my father, inherited Nathan's large collection of wood working tools. Many of the tools occupied a place of honor over Martin's workbench, mounted on a pegboard replete with black marker outlines that insured that each item would be replaced in the correct location.
Although his three daughters, Naomi, Nan, and I, expressed an interest in learning to use the tools, he put us off… we think he may have been hoping for a son. He finally permitted his youngest daughter, Naomi, to watch him working on projects.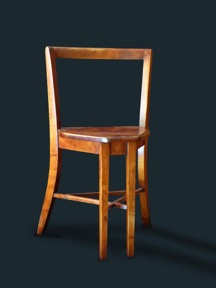 Using the tools was of such great interest to me that I enrolled in technical drawing classes in high school (I had to get special recommendations from my guidance counselor and art teacher because girls were not permitted in these classes). As a freshman art student at Syracuse University, I was eligible to apply to the Syracuse University Industrial Design program (SUID). My great attraction to the Industrial (product) Design program was its ready access to a woodworking and metal shop. The shops were used to fabricate mock-ups of our product designs. One way or another, I was determined to become a skilled designer and fabricator. During the years I spent studying at SUID, I accumulated my own collection of hand tools. Despite his reluctance to allow me access to his prized tool collection, my father was proud of my accomplishments as an industrial designer.
While writing this article, I asked my sisters, Nan and Naomi, if they had the same attraction to the tool collection that I felt.
Naomi responded, "As a child I would always see my father using multiple tools for projects around the house. He often included me as an observer, but I never had the chance to actually use the tools.
Then, once I reached higher grades in school and they offered "shop" as a class, it was never offered to the girls, especially if they were planning to go to college. I look back now and wish that I could have learned all of those skills when I was younger. Now, I dream of being a carpenter's apprentice!!!"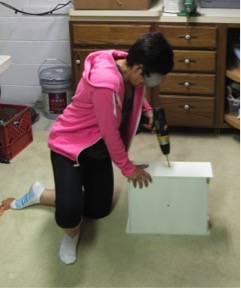 My sister, Nan, had a deep attraction to another piece of equipment in our basement. We had an old White brand factory sewing machine from our mother's parents, who owned a dress manufacturing company. She, too, needed to acquire special permission from the school district to take sewing in high school, because it was not part of the college bound curriculum. Nan became a skilled tailor, published two books on altering and mending garments and started her own specialty clothing company. She currently designs and creates almost all of her work garments. Nan feels that everyone (even all of those college bound girls who were not allowed to take home ec classes in high school) should learn basic mending skills and intends to teach them!
A fews years after I married an apartment dwelling city boy, and we purchased a house. My trousseau, which included an ample collection of tools that could be used to fix up the house, enhanced our wedded bliss. We both learned skills to assist with home repair.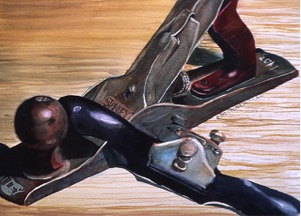 My father passed away in May 1993. The house where we grew up was sold and Naomi and I divided up the tools. Some of the tools are lovingly displayed, hung on my studio wall. As I write this essay, my husband is using several tools in the very next room to replace a piece of damaged drywall.
Since 1993, I've realized that the objects I treasure most are those utilitarian items that bear the patina of years of use. Each one of the items in my collection served a purpose and in many cases, was part of an ongoing creative endeavor.
I am so proud that my son Joel is carrying on the family tradition as a maker. He is a skilled woodworker, machinist, designer, and fabricator. The treasured tools are slowly making their way into Joel's toolbox.
I asked Joel, a skilled toolmaker and wood working craftsman about his feeling towards the keepsake tools.
Joel's Story:
"I grew up in a world of paintings on the wall of our house, and assumed this was normal, only to learn that not everybody's mother is an accomplished artist. The paintings I was most drawn to from a young age were the "Keepsake" series, which includes all of my great-great grandfather's tools. This foreshadowed a great life-long attraction to the warm tones of wood and metal patina.
As a youth I played many sports, but the only one at which I excelled was sailing. I began to volunteer every morning at a summer sailing camp, where I learned to fix 30+ year old fiberglass boats, wooden daggerboards & rudders, torn sails, and broken spars. This fixation on handwork lay dormant until after college when a new roommate, Michael, engaged me in the pastime of fine woodworking.
Michael had been scavenging quality hardwood shipping pallets from his PhD laboratory and hoarding the de-nailed boards underneath his bed. He also built a small hand tool woodworking shop in a utility closet. I invited Michael to start woodworking next to me in my welding and metal shop. Eventually Michael dragged his grandfather's wood lathe out of a garage in Pittsburgh down to our shop in Florida. After learning to wood-turn, I had fully caught the woodworking bug again.
Fueled by an endless supply of urban lumber from a tree service run by our other best friend, Steven, we accelerated forward with our desire to run a real woodshop. I soon began collecting old heavy-duty woodworking machines and inviting other young makers with a passion for old machinery to join our shop.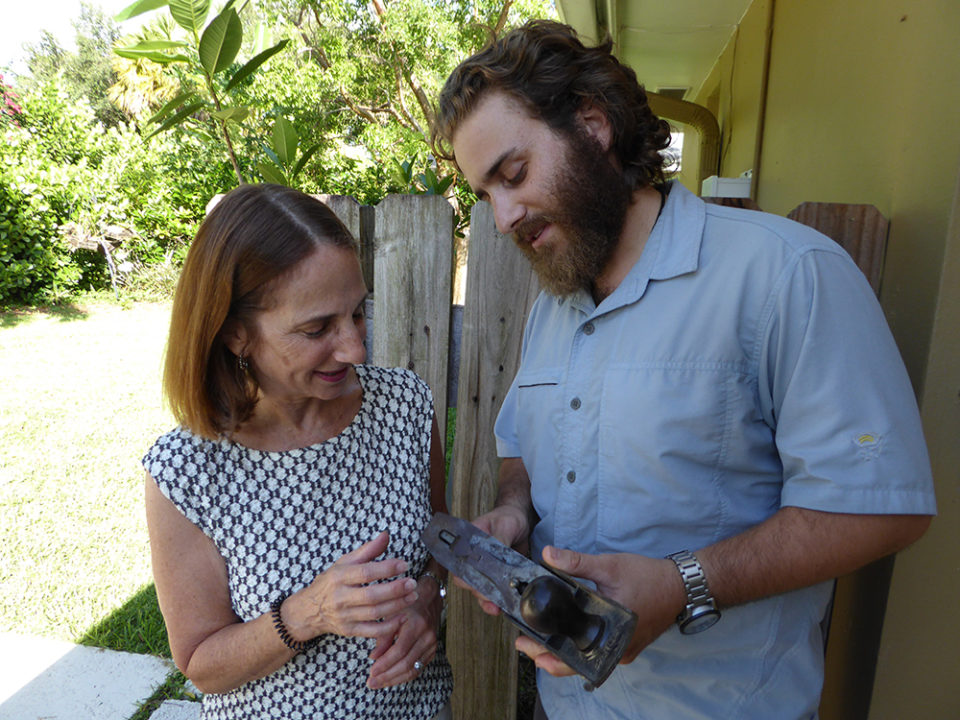 As a machinist, I specialize in high precision metal work. This skill is useful for making furniture and sculpture, and refurbishing old machinery. Along with woodturning and furniture making, I have also constructed large festival art installations. For one piece, I machined a dodecahedron out of steel tubing. The sculpture levitates off the ground, drives around, and sets itself back down. It can house about 8 people comfortably. The whole structure folds up to fit inside my car.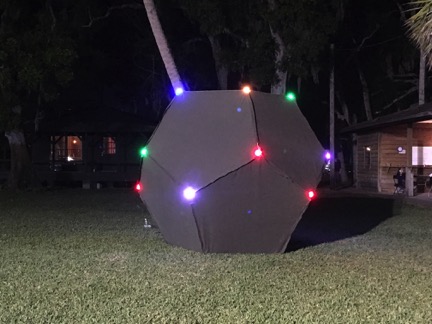 I believe that the ability to make is programmed into our DNA, yet it is not taught or fostered in schools with college geared curriculum. It is a central part of our evolution as humans. It is obvious now to me that it runs in my blood, but that took years for me to realize.
As such, I am now focused on starting a program for young people to learn about fabrication, design, and classical technology such as: woodwork, welding, blacksmithing, machining, silversmithing, and textiles."