Most of the time that I have been a painter I've worked with watercolors. I lived and breathed watercolors. I taught watercolor  workshops and demonstrated at galleries and museums. I even wrote my own little "How-To" book. When I had a painting on which to work, I awoke with the sun and made a beeline for the studio. I felt a a symbiotic relationship with the paint, the paper and water. It was zen. It was the same feeling I got from distance swimming. When a painting was working it felt as if it were singing to me.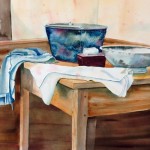 After completing an Artist in Residency at the Herbert Hoover National Historic Site in West Branch, Iowa in 2005, I made my own historic decision.  I began to paint in oils and acrylics. I'd grown frustrated with gallery owners telling me that they loved my work and could sell it if only I were painting on canvas instead of paper.
I embraced the oils and acrylics. I'd first learned to paint with oils and it felt good to work with the thick, creamy textured paint. It was different to be working with opaque colors; to be working in media where one could paint over ones mistakes. I'd had to cut mattes, glass and frames for my watercolors.  It was a relief to hang the lightweight works on canvases at shows. I was pleased with the work. I brought canvases and acrylic paints to my 2010 Artist-in-Residence position at Necedah National Wildlife Refuge in Wisconsin.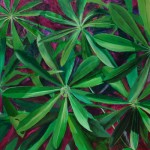 This past week I began to looking through my repertoire of 2012 paintings to see what image might be suitable for a holiday card. I discovered a half dozen unfinished oil and acrylic paintings on canvas. Each was about 90% complete, just waiting for the finishing touches to be applied. I worked to finalize each piece. They were all good but none seemed like the perfect image for a card. What if I painted something new, a watercolor? I'd been looking out my studio window at a palm tree laden with bright red seeds for nearly a month. I carefully drew the large bunch of berries and nearby palm fronds onto 300 pound Arches watercolor paper. Then I painted for four days straight. I stopped to practice yoga, eat and walk my dog. I stood back from the painting today to critique. It felt like I'd come home. It felt really good. I recall the break I had taken to work in ceramics in 2002. It seems that every few years I need to work in another media in order to bring freshness to my watercolor painting experience.