A recent client project involved designing communications materials for preschool programs. I worked closely with Christy Potter at Children's Services Council of Palm Beach County to develop materials for the Strong Minds preschool program.
What is Strong Minds? 
Strong Minds is Palm Beach County's voluntary, quality rating improvement system (QRIS) for child care providers. This is a national movement, with more than 30 states implementing their own quality rating improvement systems, so more U.S. children enter kindergarten ready to learn.
Quality early learning programs, like those participating in the Strong Minds Network, can make a big impact by:
Improving children's learning and development
Encouraging strong adult-child relationships
Empowering families to be more involved in their child's learning
Please click on the two brochure cover images below to view two of the items that I designed.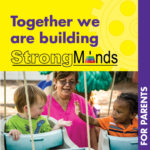 In addition to creating brochures that explained the Strong Minds program, projects included templates and a tip sheet to assist preschool staff in utilizing the materials to communicate in the most effective way. The tip sheet went beyond the collateral materials and offered suggestions for consistent communications through all media including a scripted phone greeting.
The project helped me to realize the importance of developing a supported communications plan. Beautifully designed web and printed collaterals have little worth if they are not part of a consistent communications plan that is flexible and easy to execute.
Upon completion of the preschool project I wondered how a school principal at public elementary might handle the challenges of communicating with a large, diverse, and very busy parent and caregiver population. I asked Teresa (Tere) Stoupas, Principal of the Conservatory School @ North Palm Beach. My conversation with Tere Stoupas will be published next Tuesday, November 17.
Pin It