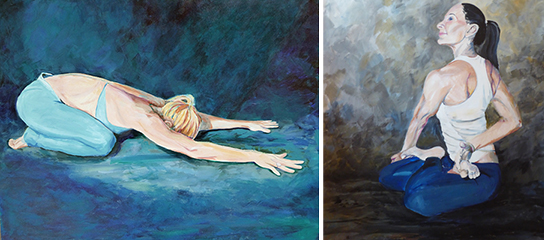 My new solo exhibit features the first gallery viewing of new yoga artwork.
Artists of Palm Beach County has tapped me to judge an exhibition of still life paintings by its members. Additionally, they've arranged for me to have a solo exhibition area in the Art on Park Gallery from July 5 – August 12, 2016.
Opening reception party: Art on Park
Friday, July 8, 2016
5:00 – 8:00 PM
800 Park Avenue in Lake Park, FL.
Open to all. Please come.
Need more info? caren@carenhackman.com
This will be the first gallery viewing of my newest yoga paintings. 
Few of my projects have filled me with as much drive and energy as the "Yoga Series" and "Yoga Icons." The yoga artwork takes two forms. One group of pieces are acrylic paintings on canvas.  The brushstrokes and lighting show the energy and spirit of the asanas or yoga poses.
The"Icon" suite of artwork combines digital painting and archival printing on canvas with hand embellished accents. I have coined this suite of paintings "Yoga Icons" as homage to Andy Warhol, who had a knack for depicting well-known personalities as "pop icons". I am grateful to my wonderful yoga instructors for providing me with physical and spiritual teachings and for so graciously posing for these artworks.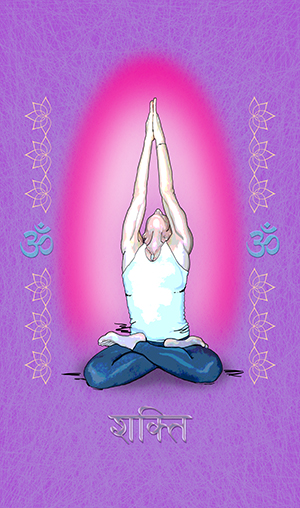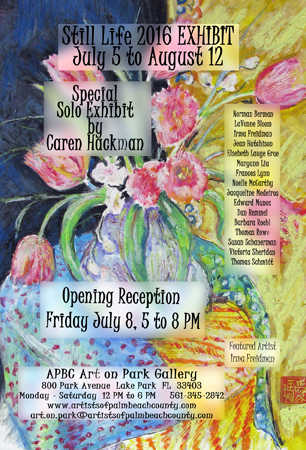 Pin It