Through this website and blog it is my hope to offer news bits about current graphic design challenges (my own and others) as well as fine art news. To continue with the theme of my new book, "Graphic Design Exposed," this blog will expose the development of graphic design and fine art projects. From time to time I will invite guests to blog here in order to keep the news and views fresh and informative.
Please click on the orange and white envelope icon to receive email updates.
As a columnist with The Rickie Report, an online news source for artists in Palm Beach County and beyond, I respond to questions that pertain to visual communication, extending some of the basic information covered in my book, Graphic Design Exposed. This article is a little different and a lot of fun. The Rickie Report invited me to investigate how best to introduce young people to art and at what age.
The article appears on The Rickie Report site in two installments. For this article I consulted with three experts. I am very grateful to Glenn Tomlinson and Lyda Barrera and Christina Barrera for taking the time to answer my questions and share their experience.
Below are some excerpts from the interviews with Glenn, Lyda and Christina.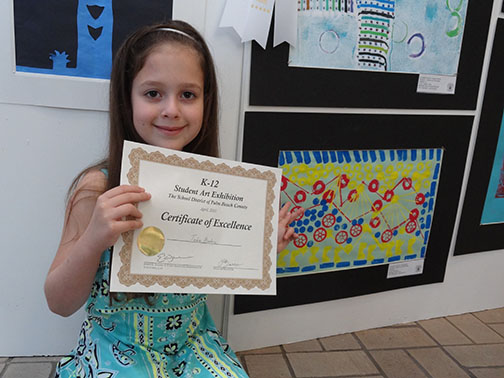 Lyda Barrera has taught elementary school art in the Palm Beach County School District for 25 years. She and her daughter, Christina, also work privately with students to prepare them for auditions at Bak Middle School of the Arts and Dreyfoos School of the Arts. Christina, a professional artist, is an Undergraduate Admissions Counselor at the School of Visual Arts in New York City. She spent two years working as a Museum Educator at the Walters Art Museum in Baltimore, Maryland.
Caren: You've told me that most children draw freely without instruction before they begin taking classes. Then you ask them to draw from observation.
Lyda: Drawing from observation engages the brain in a different way than free expressive art, which is also important but is not engaging their brains the same way.
Christina: It's important to make sure that young kids be told that there is no wrong way to make art. Later, I think it's important for students to gain skills and challenge their brains to learn to analyze what they're seeing and draw from observation, but it's also so important to tell kids that there's no wrong way to make art — it can't be "right or wrong." It helps prevent them from getting discouraged because a project doesn't look "right" or they're "not good". Seeing and making art, developing motor skills and creativity are all important parts of development and can enrich someone's life forever if they're creativity isn't invalidated early on.
Glenn Tomlinson has served as the William Randolph Hearst Curator of Education at the Norton Museum of Art since January, 2001.  Prior to that time he worked in museum education at the Philadelphia Museum of Art and at the Pennsylvania Academy of the Fine Arts. He lives in Jupiter with his family. The Q and A with Glenn can be found here.
Caren: Are there basic principles to which beginners should always be introduced as a first exposure or lesson? Or do you work with exhibits that are available in the galleries?
Glenn: There are so many points of entry into art.  One of the ways that we like to work is by developing literacy skills and critical thinking skills.  Exploring the elements of art (line, color, shape/form, space, texture) is a good way to help develop a vocabulary for looking at art (and everything else, btw!).  Then, by discussing how the elements of art work together to create composition, for example, you exercise a child's critical thinking skills.  Take it one level further, by looking at a second artwork, and comparing the second to the first… learning can happen in such meaningful ways through this kind of process.  And we can use a wide variety of artworks for these lessons, so we do use special exhibitions and the collection.
Please read the articles in their entirety.
The full Q & A with Lyda and Christina can be found at First Encounters with Art – Part One
The full Q & A with Glenn Tomlinson can be found at First Encounters With Art – Part Two
The Rickie Report a FREE publication, is read worldwide. You can subscribe to it HERE.
Pin It